Class action filings are plentiful in California.  Each day, there are 10-20 new class actions filed in California's state and federal courts.  They include the following categories of cases:
Labor and Employment [e.g., wage and hour, overtime, Fair Labor Standards Act ("FLSA"), discrimination, and Employee Retirement Income Security Act of 1974 ("ERISA") / employee benefits];
Consumer class actions [g., products, food labeling, Unfair Competition Law ("UCL") (Cal. Bus. & Prof. Code, § 17200 et seq.), False Advertising Law ("FAL") (Cal. Bus. & Prof. Code, § 17500 et seq.), and Consumers Legal Remedies Act ("CLRA") (Cal. Civ. Code, §1750 et seq.)];
Civil Rights (42 U.S.C. § 1983 claims), including Americans with Disabilities Act of 1990 ("ADA") Titles II and III class actions and disability claims; and
Data Breach and Privacy class actions [g., Fair Credit Reporting Act of 1970 ("FCRA") and Fair and Accurate Credit Transactions Act of 2003 ("FACTA") (15 U.S.C. §1681 et seq.), Telephone Consumer Protection Act of 1991 ("TCPA") (47 U.S.C. §227)].
Specifically, over the past month in Northern California, consumer, employment, and TCPA class actions have dominated the filings, as indicated in the chart below.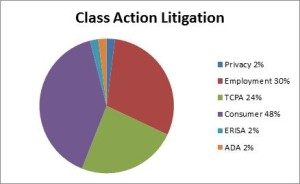 With so many class actions filed, many of them are settled prior to trial – 2 were especially noteworthy.
On February 8, 2016, Warner/Chappell Music Inc. agreed to establish a $14 million fund to repay those who have over the last 60+ years paid fees to license use of "Happy Birthday to You!" (Marya v. Warner/Chappell Music, Inc., C.D. Cal., No. 13-04460).
On February 16, 2016, a class settled for $13 million with LinkedIn over sending multiple e-mails to members. The settlement included a $3.25 million attorney fee award and $1,500 incentive awards for each of nine lead plaintiffs.  [Perkins v. LinkedIn Corp., N.D. Cal., No. 5:13-cv-04303-LHK).
Attorneys in Hanson Bridgett's Class Actions and Mass Torts group monitor these developments in Northern California on a daily basis and have deep experience defending and favorably resolving these types of claims.